Headland Garden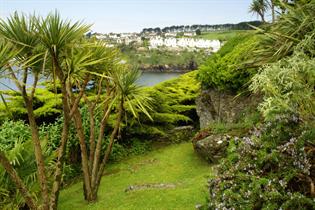 With a name like 'Headland' the stunning cliff-top position of this garden comes as no surprise. But even with such an obvious clue, you won't be prepared for the magnitude of the staggering coastal views witnessed from this waterside paradise, which opens in aid of the charities RNLI & NGS.
Relax amongst a rainbow of horticultural excellence that mingles into the turquoise hues of the ocean. Thanks to the sensible feature of many discreet benches throughout this beautiful rock garden, there are plenty of places you can take the weight of the feet and let your eyes fully appreciate the lush location. Tucked into the coast by Fowey and exposed to the sea and wind on three of its colourful sides, this waterside garden has been planted with species that can withstand the salty gales and harsh conditions.
Despite this, since its beginnings in the early 1900s, Headland has unintentionally developed into somewhat of a horticultural hotspot. The current owners actually bought it as a holiday home and the garden tagged along, but it has received masses of attention from the media and plant brigades, as swarms of sub-tropical species have thrived in the grounds. The shelter that has enabled so many species to flourish has been provided by Monterery Pines, new planting is fast catching up to replace the weary lot that were initially planted. Whilst walls and arches add more aesthetic touches than protection, lower hedges of escallonia and euonymous also shelter exotics such as agaves, aloes, aeoniums and lampranthus to name a few.
Discover the vegetable garden perched at the top of a precipitous cliff, and from here you can wind down through the rest of the garden to a secluded swimming cove. Being open in support of the RNLI charity reinforces Headland Garden's maritime image and location, but it truly is a hidden gem and well worth a look for any garden lover.