Walk Ten Mount Edgcumbe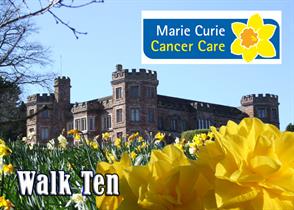 Type:
Participatory Event
Walk Ten is a 10k walk through the stunning estate of Mount Edgcumbe. At 7pm you will be given after-hours access as you take on your 10K challenge, through Grade 1-listed gardens and open countryside, home to its herd of wild deer, as the Cornish sun sets across this magnificent park...don't forget your torch! There will be entertainment throughout the night, with face painters, jugglers, performers and musicians on hand as the route takes you through the beautiful formal gardens, allowing you to admire the stunning coastal views across the Plymouth Sound. After finishing your 10k, you can setting down to enjoy your homemade picnic or our tasty hog roast as you sit back, rest your weary legs and soak up the atmosphere with local live band "deciBelle".
The event will conclude at 10pm when everyone will gather together for a spectacular fireworks display to pay tribute to our Marie Curie Nurses. 10pm is especially poignant as this is when nurses throughout Cornwall begin their night shift – providing care and support to people with terminal illnesses, and their families, in the comfort of their own homes.
Walk as a family, a group of friends or get your workplace involved and make this a magical evening to remember!
Registration for this enchanting event is only £10 per person (or £20 if you sign up on the night). Children under 16 go free and dogs are welcome too! Everyone taking part also receives a Walk Ten T-Shirt to wear on the walk. You can find out more about the event by visiting www.mariecurie.org.uk/walkten or by calling 01884 703536.
This is the third year that Walk Ten has taken place nationally (with 25 Walk Tens taking place throughout the UK), however this is the first time it will be held in Cornwall, so apply early to avoid disappointment!