Clubs and Organisations
Local clubs and organisations covering a wide range of interests.
Listings are in alphabetical order, ignoring 'The' at the start of any titles.
Can't find what you are looking for? Try using our search facility.
All web links open a new browser window, to return to this page please close the new window.

Folknews Kernow.
For folk news and events taking place throughout Cornwall
www.folknewskernow.co.uk
Fowey Chamber of Commerce.
Representing many businesses and organisations within Fowey.
www.fowey.com
Fowey and District Fuchsia Society.
Society holds monthly talks on Fuchsia and Pelargonium cultivation as well as general gardening subjects.
www.foweyfuchsiaandgardensociety.btck.co.uk
Fowey Gallants Sailing Club, Amity Court, Fowey, PL23 1DA.
Open to members and visiting yachtsmen, offers showers, bar and good food. Visit their web site for full information on facilities, forthcoming events and much more.
Tel: +44(0)1726 832335
www.foweygallantssc.co.uk
Fowey River Camera Club. A small, friendly club of amateur photographers meeting alternate Wednesday evenings from September to May. Email: foweyrivercameraclub@googlemail.com.
Fowey River Triathlon.
Organised by Fowey River Lions, comprising of a cross-river swim, cycle ride and run.
Email: info@foweyrivertri.com
www.foweyrivertri.com
Fowey Regatta Committee.
The organising committee for everything to do with Fowey Regatta week.
www.foweyroyalregatta.co.uk
Fowey Town Forum.
The Forum aims to identify and work towards common aims for the development of the town.
Email: mail@foweytownforum.org.uk
www.foweytownforum.org.uk
Friends of the Fowey Estuary.
Voluntary activities for the conservation of the estuary.
www.friendsofthefoweyestuary.org.uk
Funnybone Theatre.
www.funnybonetheatre.co.uk
Lankelly Fowey RFC.
The official site for Fowey Rugby Club. Information on club personnel, players, history and much more.
Email: enquiries@lankellyfoweyrfc.com
www.lankellyfoweyrfc.com
Lost In Film.
Lostwithiel Film Society, for details of each months film showing visit our events pages or follow the link here.
www.lostinfilm.org.
Polruan Players. Formerly The Polruan Theatre Group, The Polruan Players stage three productions each year.
Tel +44(0)1726 870083.
Email: timcauldfield@hotmail.com. www.polruanplayers.co.uk.
Royal British Legion, Fowey Branch, Town Quay, Fowey, PL23 1AT.
Tel: +44(0)1726 832386
Royal Fowey Yacht Club, Whitford Yard, Lostwithiel Street, Fowey, PL23 1BH.
Open to members and visiting yachtsmen, facilities include showers, bar and food, temporary membership is available. Visit the web site for more information.
Tel: +44(0)1726 833573 (office) or 832245 (bar)
Email: honsec@rfyc-fowey.org.uk
www.rfyc-fowey.org.uk
Troy Players. A friendly, enthusiastic, award winning amateur dramatics group. Tel:01726 812700 www.troyplayers.co.uk
Tywardreath Players.
Local theatre group specialising in productions of Daphne du Maurier's works for the annual Festival of Arts and Literature.
Email: information@tywardreathplayers.co.uk
www.tywardreathplayers.co.uk
Further Clubs and Organisations.
The following Clubs and Organisations also meet on a regular basis. For the details of their next meeting or to contact them please contact our office on +44(0)1726 833616 and we will be pleased to help you.
Bible Group
Book Club
Bowls Club
Bridge Club
Castle Dor Rowing Club
Croquet Club
Fowey Amblers
Fowey in Bloom
Fowey History Group
Fowey River Lions Club
Fowey Town Council
Fowey WI
Fowey Writers
Ladies Luncheon Club
Mission to Seafarers
Town Museum Trust

If you would like us to add your club or organisation to this listing please email us with the details.
Please note the web sites we link to on this page are not connected to this web site in any way and as such we have no responsibility for or control over the content of these sites.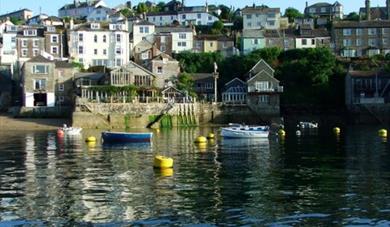 Every Thursday from 12th April to 27th September 2012 11.00am to 1.00pm
A guided historical walk...