Leisure Activities
Information on a wide range of Leisure Activities and how to take part. Including golf, horse riding, cycling, fishing, canoeing and more as well as details of parks, open spaces, cinemas and bowling alleys.
Please also visit our walking and On the Water pages for more ideas.
Click on a link to jump to information on:
Canoeing, Cycling, Fishing, Golf, Horse Riding, Leisure Centres, Parks, Rainy Day Activities.
Canoeing
With creeks and coves to explore the Fowey Estuary is ideal for canoeing.The details below offer the opportunity to hire equipment or join group activities, we have also provided some useful information.
Encounter Cornwall. Guided canoe trips and kayak hire on the Fowey River with options to suit everyone. Daily departures from April to October and year round options for kayak hire and private groups
Riverside, Golant, Nr Fowey, PL23 1LD.
Tel: +44(0)1726 832842/+44(0)7976 466123
www.encountercornwall.com
Fowey River Hire, The Alcove, 47 Fore Street, Fowey, PL23 1AJ.
Guided canoe expeditions on the beautiful River Fowey as well as boats available to hire by the day or week and kayaks available to hire for the day, half day or hour. Please book in advance.
Tel: +44(0)1726 833627/ +44(0)7515 353936
www.foweyriverhire.co.uk

Polkerris Beach Watersports. Hire 1 or 2 person sit on kayaks to explore the coast between Polkerris and Par Beach.
The Pilchard Store, Polkerris, PL24 2TL.
Tel: +44(0)1726 813306
www.polkerrisbeach.com
Useful Information
The River Fowey is tidal up to Lostwithiel and Lerryn, however, both stretches of the river from Golant do all but dry out at low tide, please check tidal information carefully and if you are not familar with the river we would recommend going on an organised trip to explore this area of the river with one of the groups listed above.
In the lower reaches of the harbour please be aware of the movements of large commercial vessels and keep well clear of them.
Slipways for launching are located at Caffa Mill in Fowey, a charge may apply, there is also a small slipway on the beach in Polruan.
Much of the river away from Fowey is secluded and as such there may be no mobile phone signal.
Cycling
Despite its hilly nature Cornwall, including the area around the Fowey Estuary, has much to offer cyclists. With both on and off road routes Cornwall's Clay Trails, which form part of the Cornish Way and National Cycle Network, offer the opportunity to explore the areas mining landscapes, routes that lead to the Eden Project and The Lost Gardens of Heligan. The nearest starting point to Fowey is at Par Beach, but you will also find that much of the Clay Trails are accessible by public transport. The Estuary is also within reach of the Camel Trail on the north Coast.
The National Cycle Network - A national network of cycle routes, on quite lanes, traffic calmed roads and traffic free roads. National Route 3 links Bodmin and St Austell.
The Cornish Way - A network of routes between Bude and Lands End offering routes on mainly rural and traffic free routes.
The Clay Trails - Trails between 3 and 5 miles long exploring Cornwall's Clay Country around the St Austell area. Some trails lead to the Eden Project, they also link with National Route 3.
Pentewan Cycle Trail - A mostly traffic free route between St Austell and Mevagissey with routes to Pentewan and The Lost Gardens of Heligan.
The Camel Trail - Following an old railway line between Bodmin and Padstow it is a traffic free cycle route of nearly 17 miles. The last and most popular section between Wadebridge and Padstow is fairly flat.
Cardinham Woods - Circular tracks of various lengths and difficulty through Forestry Commission woodland. Suitable for cyclists and walkers alike. Car park, picnic areas and cafe.
The Mineral Trail - Cycle trails between Portreath and Devora using the old mineral tramways and mining tracks. Routes of varying length and difficulty. Suitable for cycling, walking and horse-riding
Lanhydrock Cycle Hub -10km of green and blue graded MTB trails, skills area, balance track, cafe, adventure playground, car park and bike hire.

Useful Information
Please note that many of these routes are open to walkers and horse riders as well.
A leaflet on Cornwall's Clay Trails and the Pentewan Cycle Trail are available from Tourist Information Centres in the area.
For more information on cycle routes in the area please visit www.sustrans.org.uk, this link opens in a new window.
Bike Smart Cycle Hire, Wadebridge.
On the Camel Trail, you can hire bikes for all ages, baby carriers and tagalongs.
Tel:+44(0)1208 814545
www.cameltrailbikes.com
Pentewan Valley Cycle Hire, Pentewan.
For the Pentewan Cycle Trail.
Tel: +44(0)1726 844242.
www.pentewanvalleycyclehire.co.uk
Lanhydrock Cycle Hub, Lanhydrock Estate
For Lanhydrock cycle trails, skills area and balance track
Tel: +44(0)208 265975
www.nationaltrust.org.uk/lanhydrock/things-to-see-and-do/cycle-lanhydrock/
Resource, Bodmin
Delivered directly to your holiday accommodation
Tel +44(0)1208 269269
www.myresource.org.uk/bike-hire
Bike Chain, Bissoe
For the Mineral Trail
Tel +44(0)1872 870341
www.cornwallcyclehire.com
Fishing
With riverside and coastal loctions to choose from there are plenty of oppotunities to fish in the area.
Licences
To fish in the River Fowey you will need an Environment Agency Licence, (except under 12's), these can be purchased at a Post Office or by Telephone: 0844 800 5386.
Licences are available for Trout and Course Fishing or Salmon and Seatrout Fishing, you can choose from one day, eight day or yearly licences, they also offer junior licences for 12 - 16 year olds and senior / disabled licences.
Where to Fish
If you wish to fish from the rocks popular locations are the Blockhouse at Polruan and Whitehouse.
You could also hire a boat to fish in the river, see our Boating Info page for details.
Nearest bait and tackle:
Linebite Angling Centre. Open daily for live/frozen bait, rod hire, lures, crab lines etc. 10a Eastcliff Road, Par PL24 AH. Tel: 01726 825103/075915 05040
If you prefer to fish on a lake then there are serveral in Cornwall please visit www.swlakestrust.org.uk or pick up one of their leaflets from a tourist information centre when you are here.

If you would like to go on an organised sea fishing trip try these:
Fishing on 'Moogie' - Fishing as well as coastal and river cruises. Private bookings welcome. Pick up and drop off in Fowey or Polruan
Tel: Dan on 07792 625908
Borlowen - 2hr mackerel fishing trips, also half day and full day trips. Private charter welcome and all rods and tackle supplied. Pick up from the Town Quay, Fowey
Tel: 07845 280731
Shark Angling Club, Looe - Shark, mackerel, reef and wreck fishing, evening conger.
Tel: 01503 262642/07470 046522
Mevagissey Shark Angling Centre. On the quay, for tackle, bait and booking angling trips. Tel: 01726 843850/07789 401566
Aquila. 2 hour fishing or wildlife trips from Mevagissey. Tackle included. Tel: Chris on 07738051010
Bessie Vee Charters. Mevagissey. Tel: Dave 01726 871074/07855 755121
Golf
From cliff top to the heart of the countryside, there are some fantastic golf courses to choose from in the area.
Lanhydrock Golf Club, Lostwithiel Rd, Lanhydrock, Bodmin, PL30 5AQ.
18 hole course, 8 bay covered practice facility, tuition available, limited golf club hire. Tel: +44(0)1208 73600
www.lanhydrockhotel.com
Carlyon Bay Golf Club, Sea Road, Carlyon Bay, St Austell, PL25 3PQ.
Golf club hire, golfers only, no pitch & putt.
Tel: +44(0)1726 814250
www.carlyonbay.com/golf
St Austell Golf Club, Tregongeeves Lane, St Austell, PL26 7DS.
Golf club hire, no trolleys.
Tel: +44(0)1726 72649
www.staustellgolf.co.uk
Porthpean Golf Club, Porthpean, St Austell, PL25 4PJ.
Golf club and trolley hire, lessons available.
Tel: +44(0)1726 64613
www.porthpeangolfclub.co.uk
Horse Riding
Riding Centres offering lessons and sessions for all abilities.
Polmartin Riding, Polmartin Farm, Nr Herodsfoot, Liskeard, PL14 4RE.
BHS Approved Riding School near Lanreath.
Tel: +44(0)1503 220428
www.polmartinfarm.com
Barguse Riding Centre, The Grange, Lockengate, Bodmin, PL30 5HL.
Riding centre with lessons.
Tel: +44(0)1208 831817
www.barguse.co.uk
Lower Tokenbury Equestrian Centre, Caradon Town, Upton Cross, Liskeard.
1 - 2 hour rides over moorland for groups, individuals, beginners or experienced riders.
Tel: +44(0)1579 362747
www.lowertokenburyequestriancentre.co.uk
Hallagenna Farm, St Breward, Bodmin Moor PL30 4NS
Hacking and trail rides
Tel: +44(0)1208 851500
www.hallagenna.co.uk
The Veryan Riding Centre, Veryan, Truro TR2 5PH
Popular family run yard, indoor/outdoor schools, close to besach, all ages and abilities catered for
Tel: +44(0)1872 501574
Newquay Riding Stables, Trenance Leisure Centre, Newquay TR7 2HU
Riding for all abilities, group rides and tuition
Tel: +44(0)1637 872699
Leisure Centres
With gyms, tennis and squash courts and swimming pools, Leisure Centres in the area have much to offer.
The Sports Hub, Windmill, Fowey, PL23 1HD.
Gym, sports hall, squash courts. Call for details of opening times
Tel: +44(0)1726 832908
www.foweysportshub.com
Park Leisure, Par Sands, Par Beach, Par PL24 2AS
Small indoor heated pool, putting green, tennis courts and multisports area
Tel: +44(0)1726 812868
Polkyth Leisure Centre, Carlyon Road, St Austell, PL25 4DB.
Swimming pool, hydrotherapy pool, gym, squash and tennis courts.
Tel: +44(0)1726 223344
www.tempusleisure.org.uk/default.aspx?page=595
Waterworld, Trenance Leisure Park, Newquay, TR8 4BX.
Gym, 6 lane swimming pool, tropical fun pool with water cannon, tipper, flumes, slides, erupting volcano, spitting snakes and crocodile.
Tel: +44(0)1637 853828
www.tempusleisure.org.uk/default.aspx?page=590
Dragon Leisure Centre, Lostwithiel Road, Bodmin, PL31 1DE.
Swimming Pool with flume, toddler pool, gym, indoor tennis courts. Call for details of children's activities during school holidays.
Tel: +44(0)1208 75715
www.tempusleisure.org.uk/default.aspx?page=575
Parks
Whether you want to have a kick around with a ball, take the children to a playground or find a nice spot for a picnic, we hope the following information will be helpful.
Fowey
Squires Field, Park Road - A large open space at the top of Fowey with children's play area and plenty of room to kick a ball around. A free car park is situated opposite.
Picnic spots - Benches (no tables) overlooking the water are situated at Caffa Mill, Town Quay, Whitehouse and adjacent to Readymoney beach.
Polruan
The Old Coal Wharf - Situated beside the beach and overlooking the water the Coal Wharf offers plenty of picnic tables. Accessed from Fowey by the Polruan Ferry.
St Saviours Hill - At the top of the hill in Polruan is a large open space with a playarea and picnic tables overlooking the coast towards Falmouth. Situated adjacent to a public car park.
Rainy Day Activities
Bowling
Ozzell Bowl, Priory Car Park, Priory Road, St Austell, Cornwall, PL25 5AB.
Ten pin bowling centre with resturant. Please contact venue for more information.
Tel: 08709 017776
www.ozzellbowl.co.uk
Cinema
White River Cinema, White River Place, St. Austell. PL25 5AZ.
A brand new four screen cinema in St Austell's new town centre complex.
24 Hour Automated Booking & Information Hotline Tel: 0871 2003304
www.wtwcinemas.co.uk/st-austell-white-river-cinema
For more ideas of things to do on a rainy day please visit our attractions page where you will find details of local and family attractions as well as gardens and houses to visit.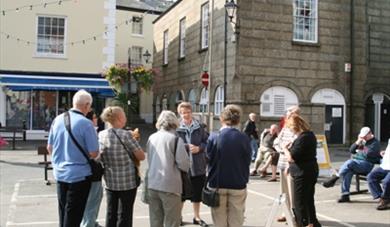 Explore the ancient town of Fowey The town has narrow streets and  medievel buildings. It was a...