On the Water












Boat and kayak hire, sailing clubs and tuition and other services for river users.
Can't find what you are looking for? Try using our search facility to the right.

Bessie Ellen Charters - Unique sailing trips and voyages abourd the last two remaining trading ketches, Bessie Ellen 1904 and Irene 1907
Tel: +44(0)7800 825382
www.bessie-ellen.com
Boat Hire from Fowey Boat Yard, 10 Passage Street, Fowey, PL23 1DE.
For boat hire on the River Fowey, life jackets and tuition
provided, hourly and daily rates.
Tel: +44(0)1726 832194
C Toms & Son Powerboat Training - Providing RYA Powerboat Training and Own Boat tuition. We also offer Powerboat tasters, ideal if you want a quick blast around taking the wheel in our centre RIB, or to get a feel for being on the water in a powerboat for the first time. Experience what RYA powerboat courses are all about under the supervision of a fully qualified RYA instructor at a great price.
Tel: +44(0)1726 870232
www.ctomsandson.co.uk
Encounter Cornwall, Bloweys, Downs Hill, Golany by Fowey, PL23 1LJ.
Guided canoe trips and kayak hire on the River Fowey with options to suit everyone. Daily departures from April to October and year round options for kayak hire and private groups
Tel: +44(0)1726 832104/+44(0)7976 466123
www.encountercornwall.com

Fowey Cruise.
Running from Town Quay, Fowey Cruise covers all the local boatman's activities, trips and private hire, look for the blue hut!
Tel: 07776 141241 www.foweycruise.co.uk
Fowey Gallants Sailing Tuition, Amity Court, North Street, Fowey, PL23 1AB.
Dinghy sailing tuition for junior members and temporary members for more details use the contacts below.
Tel: +44(0)1726 832881
Fowey Maritime Centre, 20 Lostwithiel Street, Fowey, PL23 1BE.
Providing RYA sailing and Powerboat Training, RIB and Yacht Charter, Day Sailing, Coastal Tours, Day Trips and Experience Days
Tel: +44(0)1726 833924
www.foweymaritimecentre.com
Fowey Picnic Boat. Enjoy a few hours meandering on the River Fowey in Sunbeam - a lovely 1930's motor launch. We can supply a delicious picnic or you can bring your own
Tel +44(0)1726 832350
www.foweypicnicboat.co.uk
Fowey River Boat Hire, Mill Pool Yard, Passage Lane, Fowey, PL23 1JS.
Wooden rowing and fibreglass motor boats, weekly hire.
Tel: +44(0)1726 832874
www.fowey-river-boat-hire.co.uk

Fowey River Hire, The Alcove, 47 Fore Street, Fowey, PL23 1AJ.
Guided canoe expeditions on the beautiful River Fowey as well as boats available to hire by the day or week and kayaks available to hire for the day, half day or hour. Please book in advance.
Tel: +44(0)1726 833627/ +44(0)7515 353936
www.foweyriverhire.co.uk
Pettifox Sea Charters - Sea and coastal classic wooden boat charter, sailing from Fowey in Cornwall and moored across the river from Fowey in Polruan, tripping twice a day during the sailing season, from Easter through to late September (weather permitting) Classic sailing boat trips from from £25 per person for a 2.5 hour trip. Minimum 2 people, maximum 8. Suitable for all ages and abilities. Life jackets fitted for all children and adults.
Tel: +44(0)1726 870459/ +44(0)7926 882883
www.pettifox.com
Polkerris Beach Company, The Pilchard Store, Polkerris, Par, PL24 2TL.
Windsurf, sail, stand-up paddle surf and sit-on kayak tuition and equipment rental.
Tel: +44(0)1726 813306
www.polkerrisbeach.com
Polruan National Coastwatch Institution.
Coastguard lookout in Polruan, telephone for details of current conditions at sea or visit the online weather station showing the present conditions for the immediate area.
Tel: +44(0)1726 870291
www.polruan-nci.org.uk
Sail Fowey
Sailing experiences - choose from a day sail or sunset cruise as well as RYA sailing courses and own boat tuition
Tel: +44(0)7713 899212
www.sailfowey.co.uk
Town Quay Boat Hire, Steve Langmaid is based on Town Quay, Fowey.
Self drive boats, hourly hire with tuition and lifejackets.
Tel: 07989 991115
www.fowey-boat-hire.co.uk
If you would like us to add your business to this listing please email us with the details.
Please note the web sites we link to on this page are not connected to this web site in any way and as such we have no responsibility for or control over the content of these sites.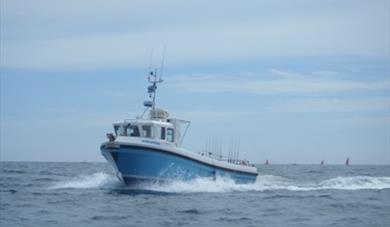 From Town Quay, offering various fishing trips throughout the season (weather permitting) No...