Pots U Paint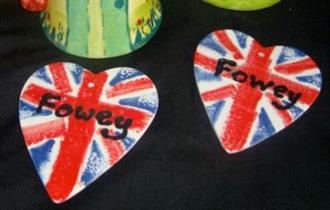 Type:
Indoors / Rainy Day
Come and enjoy pottery painting at our pottery studio in Fowey, you and your friends or family can enjoy your own pottery painting session in our studio. Choose from our extensive range of items to paint.
We also offer various other workshops:
Ceramic Button Workshop: £15 over 3 hour long sessions, then fired and ready for collection in 7 days. 4 places per workshop.
Pottery lessons: £10 per hour for individuals, discount for small groups. 2 hours a week for 6 weeks, skills taught include pinching, coiling, press moulding, slabbing, throwing and glazing.
Pottery Taster Days: £70 per person, max 4 places. 10am - 4pm. Items will be biscuit fired, you can arrange glazing separately.