Trips and Tours
Information on boat trips, guided walks, tours and fishing trips.Whether you fancy a trip on the river, a spot of fishing or want to find out more about the history of the area you will find ideas here.
For more ideas of things to do while you are here please browse our other activities and attractions pages.
Click on a link to jump to information on:
River Trips, Guided River Trips, Town Walks, Town Tours, Fishing Trips.
River Trips
Between Easter and October boat trips are available from the Town Quay in Fowey.
All boats are open boats and take a maximum of either 12 or 20 passengers.
All trips are dependent on the weather conditions at the time.
Fowey Harbour Cruise - Usually a 45 minute trip around the harbour taking in the sights from the docks up river down to the harbour mouth, with the boatman providing information on what you can see. These trips operate throughout the day and do not need to be booked in advance, for daily information visit the blue hut on Town Quay.
Lerryn and Lostwithiel Trips - These trips are dependent on the high spring tide so only run for a few days about every two weeks. They last around three hours and will visit either Lerryn or Lostwithiel. You will usually have just under an hour to explore once you arrive. The boatmen display boards on Town Quay advertising when these trips run and normally they need to be booked in advance, more information is available from the blue hut on Town Quay.
Fowey Picnic Boat. Tel +44(0)1726 832350. www.foweypicnicboat.co.uk
The skipper will help and advise on your trip but ultimately you decide where you go and how long you take.You may want to explore as much of the river as possible or you may just want to drift quietly up one of the many lovely creeks whilst sipping a glass of champagne. You may want to hear about the amazing stories about Fowey or maybe just listen to fish plopping in the water whilst enjoying an afternoon tea. As we said - the choice is yours. Plates glasses and cutlery etc are provided, just bing along food and drink The vessel can carry up to 6 adults but is also perfect for a romantic trip for 2. There is a canopy for shade, and just in case it is cool there are rugs on board. A minimum of 2 hours is recommended to enable you to take time with your refreshments and to fully appreciate what the river Fowey has to offer
Guided River Trips
Two guided trips are available both lasting about three hours.
Each trip offers around one hour ashore before returning to Fowey.
Only a few of these trips run each year and advance booking is essential.
Dates and contact details for booking can be found in our Events guide.
The Wind in the Willows River Trip - Travel to Lerryn accompanied by a Blue Badge Guide who will provide information on Kenneth Grahame and The Wind in the Willows as well as the sights along the way. When you arrive in Lerryn there will be time for a cup of tea or ice cream or a walk around with your guide.
The Historical Lostwithiel Cruise - A trip up the river to Lostwithiel where you will be met by a Blue Badge Guide for a tour of this historic town.
Town Walks
If you would like to find out more about the history of Fowey, Polruan or Lostwithiel why not join the town walks which run throughout the season. You can also be guided around the lovely Hall Walk
Fowey Town Walk - If you are more interested in exploring Fowey then a guided walk leaves from Town Quay at 1100hrs every Tuesday from Easter to the end of September. It provides plenty of opportunity to wander the town's interesting streets and find out about the town's colourful history. You can either meet by the board on Town Quay or book a place on this walk by telephoning +44(0)1726 833616.The terrain includes several short flights of steps and steep hills and may not be suitable for those with certain mobility problems.
It is also possible to take an evening Guided Town Walk, please book at least 48 hours in advance, walks can be arranged Monday to Thursday and from Easter to September, please call us on 01726 833616 for more information and booking. We need a minimum of 4 bookings for the walk to proceed
Lostwithiel Town Walk - Running weekily throughout the season, the guided tour of the town starts from the Community Centre. For details please telephone +44(0)1208 872207.
Polruan Village Walk - Running every Thursday between May and September. Meet at the Coal Wharf next to Polruan Quay at 11am, tour ends around 1pm. If you wish to book a place on this walk in advance telephone +44(0)1726 833616. The terrain includes several short flights of steps and steep hills and may not be suitable for those with certain mobility problems.
The Hall Walk - A four mile walk around the estuary, using both ferries and providing some of the best views of the harbour. It includes the beautiful church of St Wyllow, the parish church of Lanteglos by Fowey, tranquil Pont creek and the Q memorial. An ideal opportunity to learn about some of the history of this beautiful area.This guided walk takes about 3½ hours, starting at Polruan Coal Wharf, and finishing at Bodinnick.You can return to Fowey by the Bodinnick ferry, walk through historic Fowey, and catch the Polruan passenger ferry to take you back to your starting point.The terrain is fairly steep in parts, and can be quite muddy. Stout footwear is recommended. This walk is unsuitable for pushchairs, or those with certain mobility impairments.
This walk must be booked in advance by contacting Fowey Tourist Information Centre on 01726 833616. Timings available to suit, but 48 hours notice required please. Available from Easter to the end of September Adults £7 Children £3
Town Tours
Fowey Town Tour - Starting at Town Quay, take a ride around the town to see what Fowey has to offer, you will be taken to some of Fowey's stunning viewpoints and hear about the history of the town and more along the way. Operates most days during the summer, no booking necessary, space to store pushchairs and wheelchairs if required.
Fishing Trips and Tackle
Fishing on 'Moogie' - Fishing as well as coastal and river cruises. Private bookings welcome. Pick up and drop off in Fowey or Polruan
Tel: Dan on 07792 625908
Shark Angling Club, Looe - Shark, mackerel, reef and wreck fishing, evening conger.
Tel: 01503 262642/07470 046522
Mevagissey Shark Angling Centre. On the quay, for tackle, bait and booking angling trips. Tel: 01726 843850/07789 401566
Aquila. 2 hour fishing or wildlife trips from Mevagissey. Tackle included. Tel: Chris on 07738051010
Bessie Vee Charters. Mevagissey. Tel: Dave 01726 871074/07855 755121
Linebite Angling Centre. Open daily for live/frozen bait, rod hire, lures, crab lines etc. 10a Eastcliff Road, Par PL24 AH. Tel: 01726 825103/075915 05040
Sailing Trips and Charters
Bessie Ellen Charters - Unique sailing trips and voyages abourd the last two remaining trading ketches, Bessie Ellen 1904 and Irene 1907
Tel: +44(0)7800 825382
www.bessie-ellen.com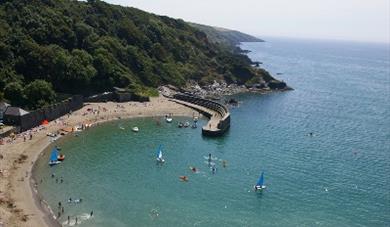 A sheltered harbour beach in the small village of Polkerris, ideal for families, with facilities...