Trips and Tours
Information on boat trips, guided walks, tours and fishing trips.Whether you fancy a trip on the river, a spot of fishing or want to find out more about the history of the area you will find ideas here.
For more ideas of things to do while you are here please browse our other activities and attractions pages.
Click on a link to jump to information on:
River Trips, Guided River Trips, Town Walks, Town Tours, Fishing Trips.
River Trips
Between Easter and October boat trips are available from the Town Quay in Fowey.
All boats are open boats and take a maximum of either 12 or 20 passengers.
All trips are dependent on the weather conditions at the time.
Fowey Harbour Cruise - Usually a 45 minute trip around the harbour taking in the sights from the docks up river down to the harbour mouth, with the boatman providing information on what you can see. These trips operate throughout the day and do not need to be booked in advance, for daily information visit the blue hut on Town Quay.
Lerryn and Lostwithiel Trips - These trips are dependent on the high spring tide so only run for a few days about every two weeks. They last around three hours and will visit either Lerryn or Lostwithiel. You will usually have just under an hour to explore once you arrive. The boatmen display boards on Town Quay advertising when these trips run and normally they need to be booked in advance, more information is available from the blue hut on Town Quay.
Fowey Picnic Boat. Enjoy a few hours meandering on the River Fowey in Sunbeam - a lovely 1930's motor launch. We can supply a delicious picnic or you can bring your own
Tel +44(0)1726 832350
www.foweypicnicboat.co.uk
Encounter Cornwall, Riverside, Golant, Nr Fowey, PL23 1LD.
Guided canoe trips and kayak hire on the River Fowey with options to suit everyone. Daily departures from April to October and year round options for kayak hire and private groups
Tel: +44(0)1726 832123/+44(0)7976 466123
www.encountercornwall.com
Fowey River Hire, The Alcove, 47 Fore Street, Fowey, PL23 1AJ.
Guided canoe expeditions on the beautiful River Fowey as well as boats available to hire by the day or week and kayaks available to hire for the day, half day or hour. Please book in advance.
Tel: +44(0)1726 833627/ +44(0)7515 353936
www.foweyriverhire.co.uk
Guided River Trips
Two guided trips are available both lasting about three hours.
Each trip offers around one hour ashore before returning to Fowey.
Only a few of these trips run each year and advance booking is essential.
Dates and contact details for booking can be found in our Events guide.
The Wind in the Willows River Trip - Travel to Lerryn accompanied by a Blue Badge Guide who will provide information on Kenneth Grahame and The Wind in the Willows as well as the sights along the way. When you arrive in Lerryn there will be time for a cup of tea or ice cream or a walk around with your guide.
The Historical Lostwithiel Cruise - A trip up the river to Lostwithiel where you will be met by a Blue Badge Guide for a tour of this historic town.
Town Walks
If you would like to find out more about the history of Fowey, Polruan or Lostwithiel why not join the town walks which run throughout the season. You can also be guided around the lovely Hall Walk
Fowey Town Walk - The town has narrow streets and medievel buildings. It was a major port in the West in the medieval period and today is still a main exporting port. Come and discover some of the places and people that made it famous 11 am to 1 pm every Tuesday between Easter and the end of October. Meet at Fowey Town Quay. Adults £5.00 Children £2.00
Please note: The walk is over ground that includes several short flights of steps and may not be suitable for those with some mobility impairment.
It is also possible to take an evening Guided Town Walk, please book at least 48 hours in advance, walks can be arranged Monday to Thursday and from Easter to September, please call on 01726 832580 for more information and booking. We need a minimum of 4 bookings for the walk to proceed
Lostwithiel Town Walk - Running weekily throughout the season, the guided tour of the town starts from the Community Centre. For details please telephone +44(0)1208 872207.
Polruan Village Walk - This small community has a big history of pirates, mariners, shipbuilders and literary links 11.00 to 13.00 every Thursday between mid-May and the end of September. Meet on the Coal Wharf by the quay at Polruan. Adults £5.00 Children £2.00
Please note: The walk is over ground that includes several short flights of steps and some steep hills so may not be suitable for those with some mobility impairment
The Hall Walk - This is a circular walk using both the ferries and it provides some of the best views of the harbour. It includes the Q memorial, tranquil Pont Creek and the beautiful church of St Wyllow, the parish church of Lanteglos by Fowey. Note: This walk must be arranged in advance, minimum number 6, maximum 20, by contacting either Ros 01726 832155 or Lynn 01726 832580 or by using our contact form. Timings available to suit. The walk lasts about 4 hours. Meet at the Coal Wharf, Polruan, near the ferry quay, for a 4- mile country walk to Bodinnick where the walk ends. You can then return to Fowey on the Bodinnick ferry. It can also be arranged the other way around. You will need money for fares on both ferries. Walk: £10 per person.
Please bring a picnic lunch. The terrain is steep and rocky in parts and can be quite hilly and sometimes rather muddy. Stout footwear and warm waterproof clothing is recommended. This walk may not be suitable for those with certain mobility impairments or for push chairs.
Town Tours
Fowey Town Tour - Starting at Town Quay, take a ride around the town to see what Fowey has to offer, you will be taken to some of Fowey's stunning viewpoints and hear about the history of the town and more along the way. Operates most days during the summer, no booking necessary, space to store pushchairs and wheelchairs if required.
Fishing Trips and Tackle
Fishing on 'Moogie' - Fishing as well as coastal and river cruises. Private bookings welcome. Pick up and drop off in Fowey or Polruan
Tel: Dan on 07792 625908
Borlowen - 2hr mackerel fishing trips, also half day and full day trips. Private charter welcome and all rods and tackle supplied. Pick up from Town Quay, Fowey
Tel: 07845 280731
Shark Angling Club, Looe - Shark, mackerel, reef and wreck fishing, evening conger.
Tel: 01503 262642/07470 046522
Mevagissey Shark Angling Centre. On the quay, for tackle, bait and booking angling trips. Tel: 01726 843850/07789 401566
Aquila. 2 hour fishing or wildlife trips from Mevagissey. Tackle included. Tel: Chris on 07738051010
Bessie Vee Charters. Mevagissey. Tel: Dave 01726 871074/07855 755121
Linebite Angling Centre. Open daily for live/frozen bait, rod hire, lures, crab lines etc. 10a Eastcliff Road, Par PL24 AH. Tel: 01726 825103/075915 05040
Sailing Trips and Charters
Bessie Ellen Charters - Unique sailing trips and voyages abourd the last two remaining trading ketches, Bessie Ellen 1904 and Irene 1907
Tel: +44(0)7800 825382
www.bessie-ellen.com
Pettifox Sea Charters - Sea and coastal classic wooden boat charter, sailing from Fowey in Cornwall and moored across the river from Fowey in Polruan, tripping twice a day during the sailing season, from Easter through to late September (weather permitting) Classic sailing boat trips from from £25 per person for a 2.5 hour trip. Minimum 2 people, maximum 8. Suitable for all ages and abilities. Life jackets fitted for all children and adults.
Tel: +44(0)1726 870459/ +44(0)7926 882883
www.pettifox.com
Sail Fowey
Sailing experiences - choose from a day sail or sunset cruise as well as RYA sailing courses and own boat tuition
Tel: +44(0)7713 899212
www.sailfowey.co.uk
Cornwall Tours
Tour Cornwall
Choose a six or sixteen seater vehicle to take a day tour anywhere in Cornwall
Tel: +44(0)7969 281805
www.tourcornwall.com
Alvajoan
Bespoke chauffered Day Tours of Cornwall
Tel: +44(0)7772 777545
www.alvajoan.com
Cornwall Tours
Your own personal tour of Cornwall. Individual, guided and accompanied. For between one and six people
Tel: +44(0)7967 488886
www.cornwalltour.com
Cornwall Discovery
Be guided in luxury through Cornwall from the dramatic coastline, through narrow lanes to hidden villages, Bodmin Moor and beyond
Tel: +44(0)7877 3033749
www.cornwalldiscovery.co.uk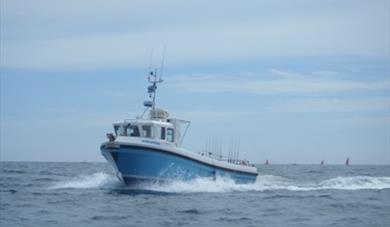 From Town Quay, offering various fishing trips throughout the season (weather permitting) No...