Walking
The Fowey Estuary is an ideal place for walking whether you are a keen walker or just enjoy leisurely strolls, with its mix of cliff top paths and woodland walks there is something for everyone.
Including information on accessing popular routes and other ideas to help get you started.

Local Walks
Town Walks - If you are interested in exploring the town centres of Fowey, Lostwithiel or Polruan then there is plenty of opportunity to wander their interesting streets. Fowey, Polruan and Lostwithiel offer a weekly guided walk between Easter and September. For more details see our Trips and Tours page. Alternatively you could use the National Trust Guide No 21 for walks in the area.
Hall Walk - By far the most popular of the estuary walks, it offers stunning views of the estuary and out to sea. It is a circular walk that follows the banks of the river and utilises both ferries, via Bodinnick, Pont Creek and Polruan or vice versa. You can also divert to St Wyllow Church from Pont and from there go onto Pencarrow head and join the coast path for a longer walk to Polruan. It is not suitable for pushchairs and in places it is steep. Between Easter and September you can do the Hall Walk with a guide. For more information on guided walks see our Trips and Tours page
For detailed information on the Hall Walk see the National Trust Guide No. 21.
The Coast Path - Much of the coastline in this area belongs to the National Trust and offers stunning views of the coast as well as some rigorous and invigorating walks.
From Fowey you can access the coastal footpath heading west towards St Austell Bay passing Gribbin Head. The starting point is the path at Readymoney Cove and between Fowey and Par there are several points at which you can pick up an inland path returning to Fowey, or you can pick up the First Kernow No 24 bus in Par
From Polruan on the other side of the Fowey River the coast path heads east towards Polperro and Looe and eventually on to Plymouth. The starting point can be found at the top of St Saviours Hill (well signed throughout the village), from Pencarrow you can take a path towards St Wyllow Church and on to the Hall Walk (partially on the road). If you wish to walk between Polruan and Polperro or Looe we advise catching a bus to Polperro or Looe and walking back as public transport is limited, see our Public Transport page.
For more detailed information see the National Trust Guide No 22
River Walks - Away from the coast and with a few miles of riverbank between Fowey and Lostwithiel or Lerryn there is plenty more to explore. In the lower reaches of the Estuary, although you can walk from Fowey to Golant or Bodinnick to Mixtow the paths tend to run across the top of the hills and sometimes through woodland. However, head further inland to Lerryn and the path through Lerryn Wood runs close to the waters edge and with a loop at the end of the woods you can return to Lerryn. Alternatively cross the bridge from the car park at Lerryn and you can walk on the other side around to St Winnow before cutting inland to return to Lerryn.
Walks Further Afield
The Saints' Way - A long distance footpath that traverses the county from Padstow to Fowey. It links many of the holy places associated with Celtic saints from the 5th - 7th Century who travelled from Ireland across Cornwall to Rome, Jerusalem or Santiago de Compostela. The walk is almost 30 miles in distance and can be stretched over two or three days.
Luxulyan Valley - Part of the Cornish Mining World Heritage Site, there are several walks exploring the Valley's mining heritage. Luxulyan Valley can be accessed from the A390 at St Blazey by car, it is also accessible by public transport. A leaflet full of information titled Luxulyan Valley is available from the Tourist Information Centre in Fowey.
Cardinham Woods - A series of circular walks of varying levels in Forestry Commission woodland just outside Bodmin. Parking and on site cafe available as well as picnic and barbeque area. Cardinham woods is signed from the A38 at Bodmin.
Guided Walks
Much of the area around Fowey has strong associations with Daphne du Maurier and her writing. Opportunities to explore this further are offered by Blue Badge Guide Lynn Goold. Lynn specialises in leading walks and giving illustrated talks about Daphne du Maurier's Cornwall, in particular her links with the area and the locations which appear in her novels.
Kenneth Grahame author of Wind in The Willows stayed in Fowey and was inspired by the area. Guided boat trips based on the origins of Wind in The Willows are available during the summer season but are dependent on the tide.
If you are interested in Daphne du Maurier or Kenneth Grahame and would like to find out more by exploring the countryside that inspired them then please email Lynn for more information and a scale of charges. Walks, trips and talks can be tailored to your requirements and are available for both small groups and larger touring parties. Illustrated talks are ideal for organisations and events.
Advice for Walkers
Footpaths can be very strenuous in places and there may be long stretches without refreshments or facilities. They may also be very muddy after a spell of bad weather. If you are planning to walk using a footpath it is a good idea to have good footwear and be prepared by taking refreshments with you. Some of the guide books available include circular walks that take in parts of the coast path and bring you back to your starting point via an inland route. Please remember to follow the Country Code.
If you are walking and intend to use public transport at some stage, please check the details before your departure, as in some cases services are infrequent. For instance some bus services may only operate on a weekly basis or during school time. For more information on transport in the Fowey area please visit our Public Transport page.
Wherever you go - follow the Country Code
Enjoy the countryside and respect its life and work.
Guard against all risk of fire.
Fasten all gates.
Keep your dogs under close control.
Keep to public paths across farmland.
Use gates and stiles to cross fences, hedges and walls.
Leave livestock, crops and machinery alone.
Take your litter home.
Help to keep all water clean.
Protect wildlife, plants and trees.
Take special care on country roads.
Make no unnecessary noise.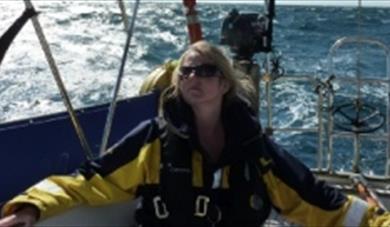 Sailing experiences - choose from a day sail or sunset cruise as well as RYA sailing courses and...